ePlane, the free online aerospace marketplace, just got better. We've been working hard to provide you with the most helpful features, in order to expand upon the multiple ways you can buy, sell, repair, exchange, and loan aircraft parts using our platform.
Here is just a bit of what we have ready for you:
1-Click RFQ
ePlane now fully supports 1-click RFQ. Simply search for a part number, then filter, sort, and compare between alternatives, and click for RFQ on parts without listed prices.
There's no commitment required, nor are there forms to fill out, making it the quickest way to receive a quote from vetted and reliable sellers whose inventory is synced with the system.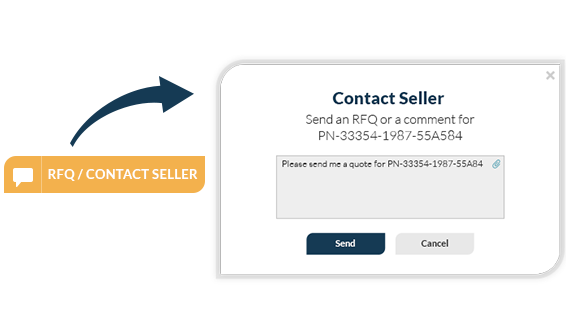 To initiate communication or to request a quote, simply click the RFQ / contact seller button next to the part.
ePlane Chat
We believe in efficiency, which inspired our recent development of the most up-to-date communication tool. The ePlane chat tool:
Enables deals to be completed more quickly and easily.
Allows buyers and sellers to communicate directly, as well as to send and receive tags, docs, pictures, POs, and invoices – all while keeping track of the entire conversation.
Sends email notifications for any new update in the chat, so that you'll never miss an important addition to the thread.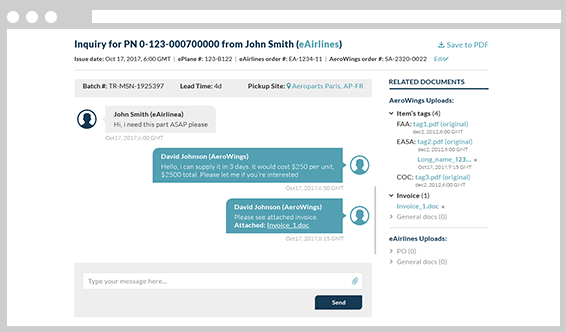 Coming soon – ePlane Autopilot
We are excited to tell you in advance about our next big addition to ePlane – an automated quoting tool that will make your purchase process so much simpler!
Sync or upload your demand to ePlane. ePlane will then analyze the requirement by using its smart Autopilot algorithm, and will return with a detailed report of availability and pricing, sorted by the relevance of the offer.
This tool is a game changer for many buyers, and we can't wait to launch it and hear your feedback.
We would love to get your feedback. Comment below or email us and tell us what you think.