ePlane
How can eCommerce technologies bring airlines efficiency?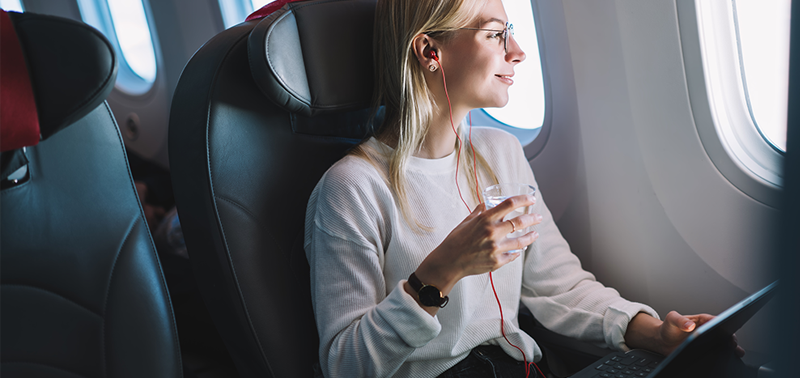 The aviation industry is among the worst hit sectors by the COVID-19 pandemic, with lockdowns and shutdowns all over the world leading to restrictions in international and domestic travel. While the industry is slowly recovering as vaccines roll out worldwide, airlines are unlikely to touch their pre-crisis levels in passenger traffic and revenues for the meantime. The global airline market, which reached an estimated $332.6 billion value in 2020, is projected to be worth $744 billion by 2026.

In contrast, the eCommerce industry saw an overnight boom amid travel restrictions. Consumers were quick to adopt eCommerce online platforms, thanks to the conveniences their technologies presented. eCommerce technologies can help airlines become more efficient and future-ready, especially as travelers — once allowed — will look for a competitive airline that offers something other than low prices and the ability to book a ticket online.
Simplified booking platform for ease of use
eCommerce technology aims to be user-friendly, with fast loading times, intuitive navigation, rich features, and mobile-optimized functions. As customer expectations grow, airlines are in a unique position to create a fresh, appealing online presence through their website and app. A simple, streamlined, usable portal that makes life easier for customers means they don't leave frustrated and are more likely to book with you again.

One frontrunner is United Airlines, which allows you to book flights on their app, but adds a number of convenient features for the next normal. The app allows you to scan passports for mobile check-ins, pre-order meals, and upload vaccination information for quick boarding times. Another value-adding feature is that the app can connect passengers with a live United agent by video, text, or chat.
Data analytics for stronger business insights
Data analytics in eCommerce gives you fresh insights into trends and consumer behavior. With digitization connecting more travelers to airline systems than ever before, it's much easier to collect and process information about your passengers. Remote arrangements have opened up doors for businesses to work with various professionals, especially as demand for data analytics professionals saw a jump in the past year. This demand has been met through digital channels that give these professionals the opportunity to either study full degrees online, both at a bachelor's and master's level, or upskill through shorter programs. Those who pursue an online data analytics master's degree are taught the latest in forecasting and predictive modeling, making these graduates extremely valuable for every industry. And many airlines have capitalized on hiring data specialists.

Southwest Airlines, for example, utilizes data analytics to save up on fuel costs. Previously, they spent $4 billion to $6 billion on fuel annually, so even a small reduction can help a lot. They created an algorithm that compared various statistical model accuracies to select the best fit for their 700 aircrafts, based on category and location. Doing so allowed Southwest to save $100 million in fuel costs. ePlane Pro also features innovative tools that leverages data analytics for buying and selling plane parts efficiently.
Omnichannel approach for integrated customer experience
With fewer passengers and less crowded flights, airline satisfaction among travelers has reached record-high scores in the past year. It's possible to maintain these ratings even after the pandemic with an excellent eCommerce-style, omnichannel approach towards the customer experience. Forward-thinking airlines can streamline their operations for a seamless shopping experience that travelers can benefit from.

AirAsia, for example, is leading the region with a "super app" that elevates them from a budget carrier to a digital lifestyle brand. Instead of focusing on travel alone, they're combining travel with e-Commerce and fintech to include end-to-end services in their offerings. AirAsia now offers flights, hotels, activities, deals, and other ancillary products in their app, with a unified payment and content system, so customers can book everything they need on one portal.