Have you ever submitted a quote only to find out you've been outbid by a competitor? ePlane's new feature, the Low Bid Indicator, prevents unpleasant surprises by giving you insight into how your quote compares to others!
The Low Bid Indicator will be displayed in chat and on your Dashboard. It takes into account the part's condition, deal type (buy, repair, exchange, or loan), availability, and other factors to give you a competitive advantage over other sellers.
How to use it
You can find the Low Bid Indicator both in the chat on your My Sales page.
Let's take a closer look.
Chat
On ePlane chat, you'll find the Low Bid Indicator at the top of the side menu.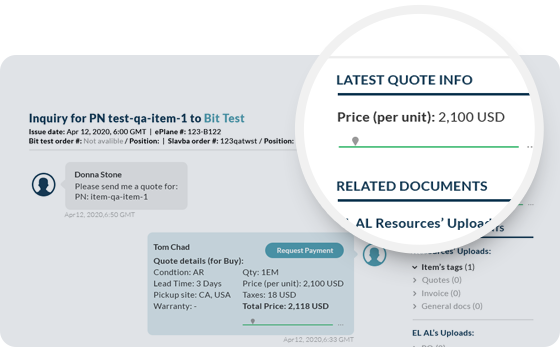 On the My Sales page on your Dashboard, you'll find the Low Bid Indicator in the Quotes column.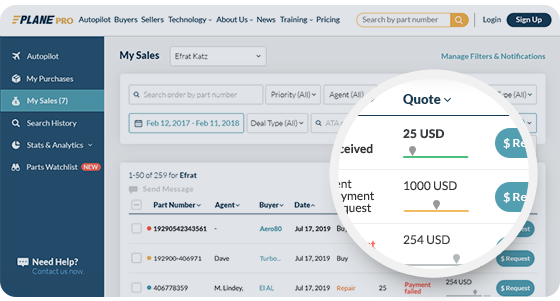 It only takes one glance at the indicator's color (green, yellow, or red) and position to understand how your quote is doing:
Green – your quote is either one of the lowest ones or other quotes are lower by up to 10%.
Yellow – there are quotes lower than yours by 20-40%.
Red – there are quotes lower than yours by 50% or more.
Adjusting quotes
Hover your mouse over the indicator to adjust your quote and to view more insights.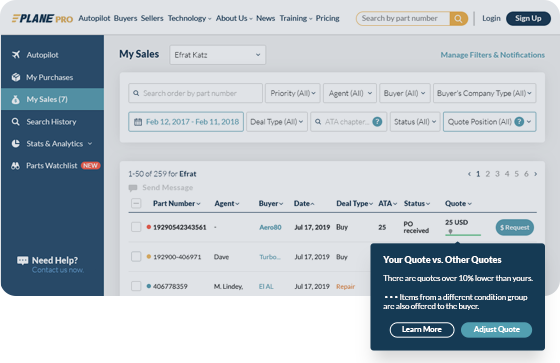 If our smart scanner finds a lower price than yours, we will notify you by email.
Here you can view and also adjust your quote, and the Low Bid Indicator will be updated accordingly in real-time.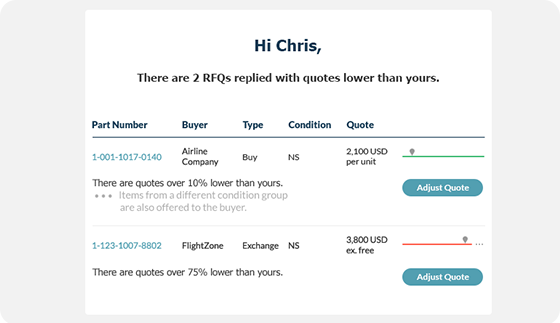 The Low Bid Indicators is one of the many advanced tools we have to offer you as part of our Pro plan. We created this advanced trading and insights solution for professionals throughout the aviation trading industry.
Learn more about ePlane Pro.