Our customized email aggregation feature allows you to group ePlane's daily email updates by RFQs, new quotes, and chat messages and to choose whether you want to receive them immediately or combined in a digest.
You can even schedule the time you wish to receive ePlane's email updates, so you won't have to worry about missing new sales inquiries before your morning meeting!
How to use
To access this feature, click on "Settings" at the top right corner of your screen and select "Notification Preferences".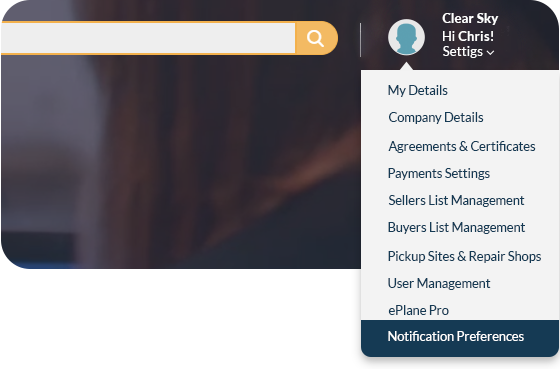 Scroll down to the bottom of the page. If you wish to start receiving ePlane's daily updates, unmark the box.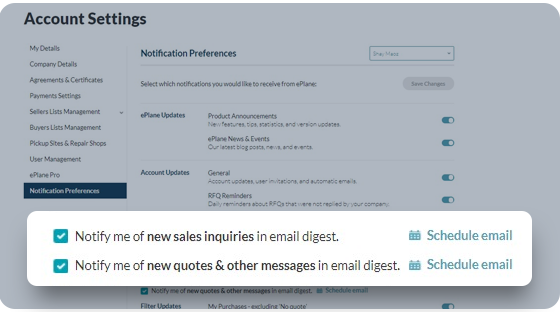 Click on "Schedule email" if you like to set a specific time when you wish to receive the emails.
By the way, our system automatically detects your time zone, so you don't have to do extra calculations.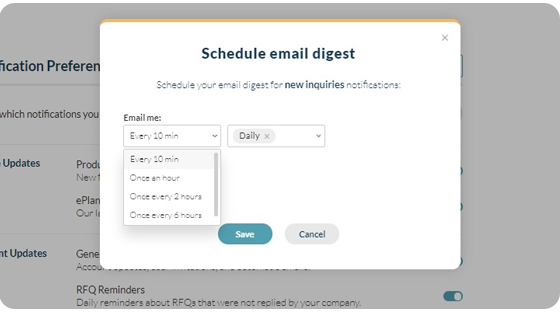 ePlane's customized email aggregation is one of the many advanced tools we have to offer you as part of our Pro plan. We created this advanced trading and insights solution for professionals throughout the aviation trading industry.